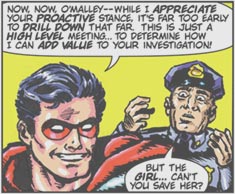 Some years ago, I was working as a technical lead at a Web design firm that had ambitions of becoming a really big success. Plans were set into motion. Hot, new talent was hired — many of them from a mysterious world known as advertising. And after a while, I started to notice that the shirts around my office seemed to be just a little bit too stuffed … the delusions just a little bit too grand.
In response, I drew a comic strip. I sketched it out in black marker on a large piece of Bristol board. Then I brought it in to work and taped it to my office door.
My coworkers loved it. For a few days, the halls were filled with snickers. And then one day, someone asked me what seemed to be a completely innocuous question: "Do you mind if I scan it in and email it to a friend of mine?"
That's how it started. I didn't think much of it at first. But about a week later, one of my coworkers noticed an odd phenomenon. Somebody had just emailed her a copy of my comic strip. Somebody who worked at another company. Somebody I had never met.
The virus had escaped the laboratory. And that's how the world was introduced to The Adventures of Action Item, Professional Superhero.
Once I realized that random people were looking at the thing, I went back to the drawing board. I cleaned up the original artwork, scanned it in, re-lettered it, colored it in Photoshop in all its garish glory, and gave it a home on the Web. Today you can find Action Item at his permanent online headquarters at professionalsuperhero.com.
I've received lots of requests for more Action Item over the years, as well as requests for merchandise and so on. I've mostly resisted these requests. Still, interest in the original strip remains strong enough that it seems inevitable that I'll have to do something new with the character. You'll hear about it here first.