When I heard the Misfits were getting back together in the mid-90s, I drew up this illustration as an homage to them, seeing as they were my favorite band in the world when I was in high school. They liked it so much that they used it for flyers for their first European tour, and as a promotional postcard for the Misfits Fiend Club.
The shame of it is that it was never really properly reproduced. It was always shrunk down too small to really see the detail. The original is about 11 x 17 inches.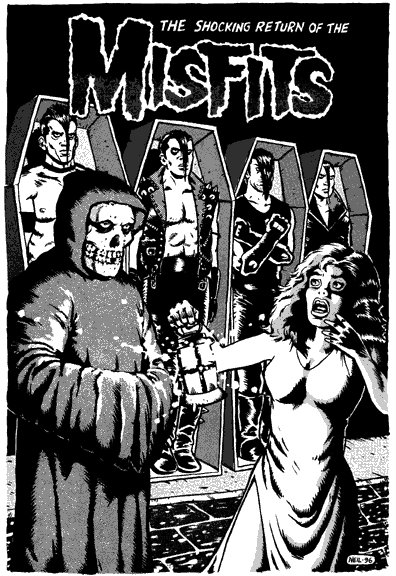 All in all, the Misfits were really nice guys about it, and sent me a whole big box of stuff including T-shirts, a promo CD, flyers, posters, and a whole box of ProEdge knives — which are like X-Acto knives, but at the time they were made by Jerry and Doyle in their dad's machine shop.
You can also find this illustration inside the jewel case for a Misfits CD bootleg called Blood. Don't ask me how it got there. If you've seen any more bootleggings of the art, let me know about it. (Don't worry, I'm just curious — I'm not going to sue anybody. The Misfits own the rights to this artwork.)
If you like, you can grab a high-res version, suitable for printing on a sheet of letter paper and making stuff with. It's only about 350KB. If you silkscreen it on something, maybe I'll see you with it.